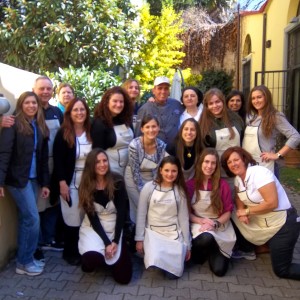 We've all watched The Food Network, picked up a culinary magazine, or at least dabbled in the kitchen once or twice, but none of that compares to the experience of learning how to cook in a place that is world renowned for it's cuisine. Of course I am referring to Italy, more specifically Florence, and all of the wonderful dishes, treats and desserts that come from this region of the world. I already knew that Italian food was to die for, but what I didn't know, or expected for that matter, was that cooking Italian food was an art form in itself.
During our time in Florence with DiVine Tours we got to do some amazing things and a cooking lesson on how to make an authentic Florentine meal was one of those things. Our second day in Florence began with breakfast at the hotel and then gathering in the lobby to begin our short trek to the bus. The weather was perfect, not too cold, but a jacket was definitely required. The bus would take us to the Giglio Cooking School of Florence to start our exciting cooking lesson on Florentine cuisine. The cooking school was one of the cutest things I have ever seen in my life. The space was bright and intimate, perfect for small groups like ours. Chef Marcella was our instructor for the afternoon and she was such a warm person, greeting each of us individually and giving us a quick tour of the place. After taking off our jackets, we each found an apron behind our chairs to put on before the cooking commenced. To our excitement, we got to keep the aprons after our lesson as a little souvenir keepsake from our time at the Giglio Cooking School. And so we slipped on our charming white and blue aprons and began our cooking adventure in Florence.
We were making three dishes— a rustic Tuscan vegetable and bread soup to start, a chicken and artichoke main dish and a classic zuppa inglese for dessert. Before we divided ourselves into our cooking stations, Marcella gave us the basic run down of what we were making, how long it would take, a quick history behind the dishes and answered any questions we had. She also gave us a mini biography of how she started off in the culinary industry, why she loved cooking and told us that she named her cooking school after the town she was born and raised in— Giglio, Italy.  Our group split up into a few different stations, from dicing vegetables as prep work for the soup to deboning the chicken for the main dish to shaving chocolate for the zuppa inglese, everyone had something to do and Marcella wasn't but a few steps away if we needed her help. It also helped that the leader of our group was Chef Moran, our very own chef from our university back in South Florida. With two talented chefs helping us along the way, we began cooking in Florence and having the best time doing it.
I chopped celery and carrots for the soup, poured copious amounts of olive oil into large pots to brown the chicken, soaked ladyfinger cookies in alchermes (a sweet, red liqueur) for the dessert, and watched as everyone else accomplished similar tasks. Once the meal was complete, we all sat down at a long table and ate the fruits of our labor. By far my favorite dish was the soup because it was warm and pleasant and hit all the right spots, especially with the chilly weather outside. Between the satisfying bites of food, we all laughed and had good conversations while enjoying the food we cooked just a short time before.
What I really liked about cooking with Chef Marcella was that it didn't feel like a lesson, it felt like I was cooking with a friend. The whole experience from start to finish was magical and definitely something I would do again. I love to cook and getting the chance to cook authentic Florentine dishes with one of the sweetest people ever was a humbling experience that I live over and over again by recreating the recipes back home. If you're ever in Florence and want the best cooking lesson around then the Giglio Cooking School with Chef Marcella is the place to go!
Instead of taking the bus back, we decided to walk. Why not right? It was a perfect day in Florence, the sun was shining and the air was crisp. To our surprise Myriam told us that she was able to get us a gelato tasting with a lesson on how the Italian treat is made. For anyone who doesn't know, but come on, everyone knows what gelato is, gelato is to Italy what most of us think of as ice cream (but it's so much better!). It's little surprises like these that make DiVine Tours so uniquely awesome!
Before we got to Rivareno, the delightful gelato shop, we were just being tourists in the purest sense. Walking down the cobble-stoned streets, peeking into the shops, buying souvenir knickknacks for friends back home and just taking in everything around us. Once we arrived at Rivareno we immediately started to read every single gelato flavor they had. There must have been twenty+ different flavors, all aimed to please any sweet tooth that walked through the door. As if the zuppa inglese from earlier wasn't enough to satisfy our craving for desserts, the gelato would surely fulfill any leftover sweet urges.
From the wide array of flavors, there were four that became my favorites— I couldn't pick just one, so like any normal person would do, I picked my top four. They were the Extra-Dark Chocolate, the Gianduia, the Caffè and the Alice. The Extra-Dark Chocolate had an intense dark chocolate taste, specifically made for dark chocolate lovers and it was made with cocoa from Madagascar. It was the perfect combination of bitterness and deep chocolate flavors— I loved the complexity of this particular gelato.  The Gianduia was a gelato that married the flavors of hazelnuts and chocolate impeccably. It was a concentrated flavor of chocolate with a creamy note of nocciola (hazelnuts). It kind of reminded me of Nutella, but it was so much better! Next was the Caffè, a classic coffee flavored gelato that I loved because it wasn't too bitter, but it wasn't overly sweet. Plus it had crunchy slivers of dark chocolate, who couldn't love that?! The last flavor that stood out to me was probably one of the most unique gelato flavors that I have ever tasted. It was called the Alice and it was one of their most popular gelatos. It was a mascarpone dairy gelato base with a splash of Marsala Vergine Soleras, an Italian liqueur wine, and a chocolate drizzle. It was distinctive and tasty, sweet and sour, creamy and rich— it was pretty much everything I'd want in an authentic Italian gelato.
Everyone in the group tasted every single flavor before we went into the kitchen and learned how to make a fruit based gelato (lemon to be exact). The process was surprisingly easy and took just a few ingredients to reach the optimal flavor. It was tasty of course, but I already had my four favorites picked out and I was eager to have some more. Gelato is absolutely something that I miss from Florence and I can't wait to go back for the real thing again. The gelato tasting was definitely a great treat after a day of cooking with Marcella.
Afterwards we made our way back to the hotel to relax a bit. My roommate and I planned on meeting up with some of the others to go out for dinner and enjoy Florence by night. There were so many small, hip places to hang out in and around the central part near our hotel. We made new friends and awesome memories that I wouldn't trade for anything. Near our hotel there was a small pub we found after dinner to have a spritz and watch the people pass us by. A spritz is an Italian cocktail that is so simple, yet so yummy and refreshing. We would have never tried a spritz if it weren't for Myriam and her suggestion of trying it because it was a true Italian delight. It is prepared with prosecco, a dash of some bitter liqueur, such as Campari or Asperol, and topped with a bit of mineral water. The pub was called The Old Stove and it was a quirky little place that had soccer games on its TV screens, trendy music playing and an eclectic group of people.
Ciao!