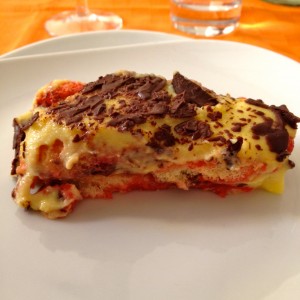 Who doesn't love dessert? It's the perfect ending to any meal. Desserts come in many forms— from cakes to pies to ice cream to custards, we all have our favorites! Another great dessert is a layered dessert, meaning cakes or cookies layered with creams, fruits or chocolate, who wouldn't love that? There is no way to make a mistake while creating one of these desserts, you simply use the ingredients you love and layer them together, it's as easy as that! Layered desserts are as delicious as they are beautiful and they're so simple to put together.
Below find the recipe for Zuppa Inglese, also known as the English Trifle. It comes to us from Chef Marcella at the Giglio Cooking School in Florence.
Ingredients for 8-10 servings:
15 slices of basic sponge cake or Italian lady finger cookies
700mL (3 cups) of milk
6 egg yolks
90gr (3 oz) of sugar
40gr (1½ oz) flour
1dL (½ cup) of rum
1dL (½ cup) of Alchermes liqueur
2 drops of vanilla essence
Dark chocolate chips (optional)
Directions:
Heat the milk with the vanilla essence. Beat the egg yolks with the sugar until fluffy, then slowly add the flour and the heated milk. Mix well and bring to a boil, then simmer for 3 minutes. Let the custard cool.
Moisten half of the sponge cake (or the lady finger cookies) in the rum. Moisten the other half of the sponge cake (or the lady finger cookies) in the alchermes. If you prefer, you can mix the rum and the alchermes and moisten the sponge cake (or lady finger cookies) all at once.
Place the soaked sponge cake on the bottom of a bowl and pour half of the custard over the top. Layer with the remainder of the soaked sponge cake and top with the remainder of the custard.
Sprinkle with dark chocolate chips, or shaved chocolate, if you wish for garnish. Place in the refrigerator and serve cold.