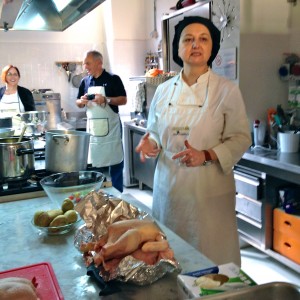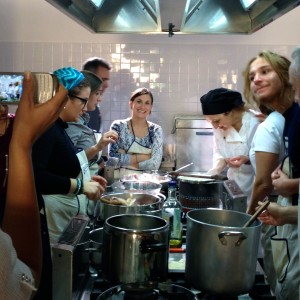 Who doesn't love a good, hearty Italian meal? Well, when you can't travel to Italy to get that food need fulfilled, the next best thing would be to get your hands dirty and cook up a delicious meal at home. If you can't make it to Italy, bring Italy into your kitchen with the help of DiVine Tours.
If you've already had the chance of reading our previous blog post, then you are familiar with Chef Marcella and the Giglio Cooking School in Florence. Chef Marcella is a wonderful lady who is not only one of the sweetest people that you will ever meet, but she is also a very talented chef. You can take cooking lessons while in Florence at her cooking school and then dine on your creations. It is truly something that you must experience while you are in Florence and DiVine Tours can help!
Below find Chef Marcella's recipe to Ribollita, a wholehearted vegetable and bread soup that will fill you up and keep you warm on chilly nights.
Ingredients (6 servings):
1 onion, chopped
1 leek, sliced
2 carrots, diced
2 celery stalks, diced
500 gr (17 oz) black cabbage, shredded
15 gr (½ oz) tomato paste
150 gr (8 oz) cooked white beans, ½ purred and ½ left whole
500 gr (17 oz) of stale Tuscan bread
salt and pepper, to taste
extra virgin olive oil
vegetable broth, optional
Directions:
Heat extra virgin olive oil in a large soup pot. Add chopped onions and sliced leeks and sauté until golden in color. Next, add the remaining vegetables, sprinkle with salt and pepper and stir well. Cover and cook until reduced by half of its original volume. Add tomato paste, beans and hot water (or the vegetable broth) and bring to a boil (note: the more water/broth you add, the less dense the soup will be). Lower the heat and cool for at least an hour. After an hour, add the stale bread and mix well; bring to a boil again. Serve warm with a sprinkle of extra virgin olive oil and enjoy!
If you've read the previous blog post then you know that during my time in Florence with DiVine Tours we made this soup with Chef Marcella. The soup my group made during our cooking lesson actually had pancetta in it. We used a few thick slices and diced them up and added them when we added the rest of the vegetables and beans. The addition of the pancetta gave the soup a nice meaty bite and some extra texture. Try it with or without it, you'll be pleased either way! This soup was the perfect start to our wonderful Tuscan meal. Also, be sure to check out Chef Marcella's blog, you can find here.
If you like this recipe and try it out, let us know!
Cook! Eat! Enjoy!