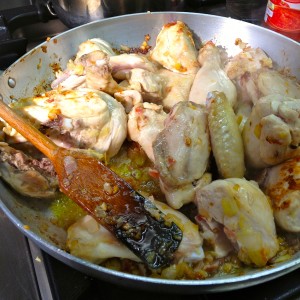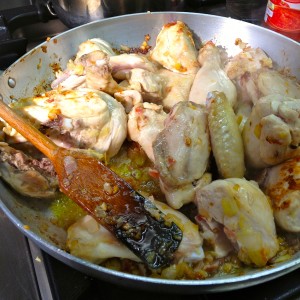 Chicken is a universal dish—almost every one eats and enjoys it and has a favorite way of preparing it (if you're not vegetarian or vegan of course). Whether it's crunchy fried chicken, succulent grilled chicken or a classic roast chicken, you can do just about anything with it. During DiVine Tours' previous spring break trip to Florence and Bologna, we learned a new and delicious way of preparing chicken. The recipe comes to us from the Giglio Cooking School in Florence, the same place that our previous Tuscan soup recipe came from. Below find one of the thousands of ways of preparing and cooking chicken:
Spezzatino Di Pollo alla Carciofaia
Chicken with Artichokes Ingredients (4-6 servings):
1 whole chicken, cut into pieces (with liver and hearts if possible)
400 gr (13 oz) canned tomatoes, diced and deseeded
100 gr (3 oz) pancetta (un-smoked bacon)
6 artichokes
1 onion
2 garlic cloves
1 glass of white wine
Basil leaves
Olive oil
Salt and pepper, to taste
1 tablespoon vinegar
1 lemon
Meat stock, as needed
Directions:
Chop one garlic clove and onion, sauté them in olive oil for a few minutes. Add the chicken pieces (chopped liver and hearts included) and roast them on high heat until browned, then add the tomatoes and season with salt and pepper to taste. Lower the heat a little and cook until the chicken is well done and the tomatoes have reduced, about 15-20 minutes. On low heat, add the white wine and vinegar, cook for an additional 30-40 minutes.
In the meantime, prepare the artichokes by taking off the hard exterior leaves, then cutting the artichokes in quarters and soaking them in water and lemon juice to prevent them from browning. Sauté the artichoke wedges in a few tablespoons of olive oil, basil leaves, the diced pancetta and one chopped garlic clove, adding stock if necessary, for about 20 minutes.
After the long cooking time, the chicken bones will come off easily. Take the chicken and all of the tomato sauce and add it to the pan with the artichokes. Mix well, adding salt and pepper if needed, as well as any broth. Serve hot.
Be sure to check out Chef Marcella's blog here.
If you like this recipe and try it out, let us know in the comments below! Also, don't forget to like us on Facebook!
Cook! Eat! Enjoy!